Monteath manufactures and distributes stock moulding, as well as custom wood moulding, for a variety of uses. Most are available in Cherry, Mahogany, Maple, Oak and Poplar. We can match and manufacture any style in over 50 different lumber species. We also offer DIAMOND DECKING® IPE decking and deck lumber as a compliment to our line of fine cabinet hardwoods. We are distributors of Garden State Lumber Products, White River Lumber Products, and Staircrafters stair parts.
Our company distributes foreign and domestic lumber. We can obtain unusual woods needed to satisfy specialized markets. Our worldwide timber procurement contacts are a valuable asset for locating many wood species for special industrial use.
We are a valuable wood source for many diversified customers, including wholesale, retail lumber and distribution yards, architectural woodworkers, marine contractors, custom stair builders, etc. We service customers in other assorted industries, including manufacturers of musical instruments, contract and residential furniture, sporting goods, fine cutlery handles and custom yachts. Design professionals, including architects, space planners and industrial designers, rely on Monteath for selecting wood species and providing technical advice for residential and commercial projects.
It is Monteath's commitment to sell only the finest quality material at truly competitive prices. Our commitment to product quality and superior service has been a proud company tradition for over 140 years. Our capable management team, qualified office and warehouse personnel, and experienced sales representatives are available to assist you in any way we can.
[You need Adobe Reader to view/print the Catalog; click + or - to zoom in or out

please be patient, the file size is 5 Mb.]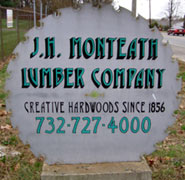 Monteath Moulding
P.O. Box 757
South Amboy, NJ 08879-0757
Yard & Warehouse Store
3150 Bordentown Avenue
Old Bridge, NJ 08857-9703
Toll Free: 800-922-1029
Phone: 732-727-4000
Fax: 732-721-1752
Email: monteath@att.net